Babies toddle around the waiting room, giggling a little too loud, and husband attempts to complete some homework while we wait for my name to be called. It takes longer than I'd hoped.
The nurse smiles, escorts me to the triage area, takes my blood pressure, asks questions. She tells me to step up on the scale. I've gained weight, from the water retention they tell me. I feel a surge of frustration, along with new resolve to get off the prednisone.
We wait some more.
Finally, the doctor comes in, opens up my file, his smile full of compassion. He gently informs me that my latest blood work reveals a more complicated diagnosis. It is a hard blow.
All my efforts to get better, to exercise, to eat more healthfully, get enough rest, to use all the right supplements... and my body, it just seem to be falling apart.
Autoimmune diseases are frustrating in their own right because, in essence, your body has betrayed you. The God-given immune system has gone rogue, and has turned to attack your own healthy cells.
I have three autoimmune diseases.
It is rare, complicated. And I don't know exactly what this will mean for my quality of life.
There is a very real possibility that I will get better. There is also the possibility that I won't.
Either way, this is something I know for sure:
God is in control.
I know this can sound so hollow, so cliche. I don't offer this up as someone who just wants to act like everything is fine when it isn't. There are very real, very difficult, very devastating things that happen in life. And they aren't easy sometimes. I don't mean, in any way, to gloss over that.
But I am sensing more and more that these diseases are a gift.
They have served to draw me closer and closer to God. And anything that does that is a gift. He is all in all. With that understanding, I can thank Him FOR the diseases, not just IN them.
I don't understand all of this. I don't know what will happen. But I know I can trust God. He never, ever, ever wastes our pain.
Of this I am sure.
So my list of thanks grows:
tiny toes peaking out of blankets
wispy ginger hair on baby Owen's downy head
laughter
friends who love and listen and pray
family within driving distance
electric blankets, warm socks, gloves
little gifts in the mail
a new book
long phone calls for prayer
rheumatoid arthritis
lupus
scleroderma
Raynaud's phenomenon
peace that passes understanding
reading the sermon on the mount with our children
knowing Jesus is closer than my next breath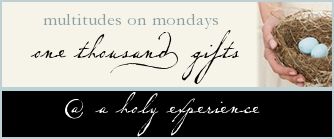 Kind friends, if you would please be in prayer for us, as the Lord leads? YOU are gifts, as well. I am so thankful to be part of the love body of Jesus. xo